Source of the photo
Cheol Gil et. al, 2000
Author of the description
Feigl Viktória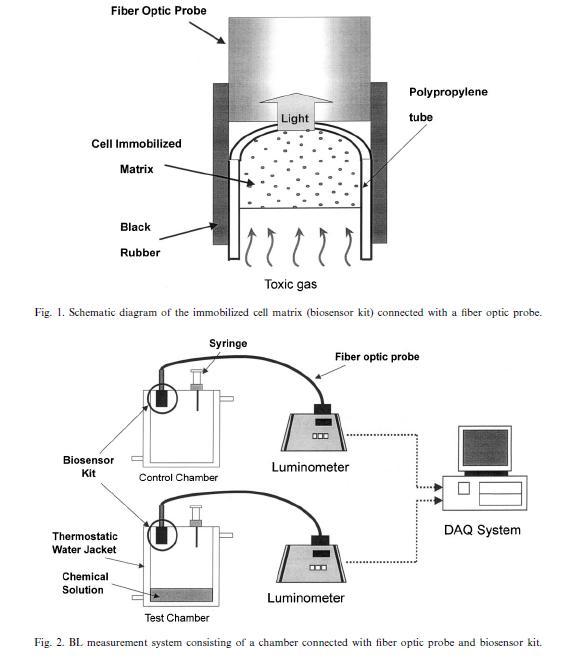 A bioszenzorok élőlényeket vagy azok részeit (szöveteket, sejteket stb.) használnak toxikus anyagok mérésére valamilyen fizikai-kémiai detektorral kombinálva. A levegőben lévő toxikus vegyi anyagok, gázok bioszenzorokkal történő mérésére is sok fejlesztés irányul. Az itt bemutatott módszerrel nem csak egy adott gáz koncentrációja, hanem gázok toxicitása is mérhető.
A módszer rekombináns E. coli baktériumot alkalmaz, mely biolumineszcens gént (lac::luxCDABE) tartalmaz. A toxikus gázokkal közvetlen érintkezésbe kerülve a biolumineszcencia intenzitása csökken, mely luminométerrel detektálható.
A szenzor teljes sejteket tartalmaz agarban immobilizálva. Ez lehetővé teszi, hogy a sejtek közvetlenül érintkezzenek a mérendő gázokkal, illetve az agar a tápanyag utánpótlást is biztosítja.
Source of description
Cheol Gil, G., Mitchell, R. J., Tai Chang, S., Bock Gu, M.: A biosensor for the detection of gas toxicity using a recombinant bioluminescent bacterium, Bisensors & Bioelectronics, 15, 23–30, 2000.