Source of the photo
www.exploratorium.edu
Author of the description
Akusztika Mérnöki Iroda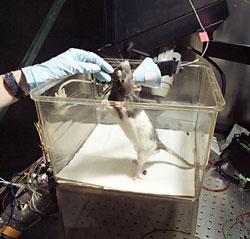 Az egyes légszennyező anyagok toxicitására többek között nem humán toxikológiai kísérletekkel lehet megállapításokat tenni. A képen egy patkány kísérlet pillantképét látjuk. Pl: a benzol toxicitását patkány, tengerimalac és nyúl kísérletekben állapították meg úgy, hogy az egyedeteket 30 - 40 héten át folyamatosan napi 7 órában 80-88 ppm (256-281 mg/m3) benzolos levegővel érintkeztették és vizsgálták az egyedek szervi elváltozásait. Kóros elváltozásokat az ivari mirigyekben és a here, herevezték vizsgálatánál tapasztaltak.
Source of description
IARC. Monographs on the Evaluation of the Carcinogenic Risk of Chemicals to Man. Geneva: Wold Health Organization, International Agency for Research on Cancer, 1972–Present. (Multivolume work)., p. V29 111 (1982).